Meet Ryan O'Neill.
Six years ago, Ryan O'Neill was approached by a colleague who was involved in the Peel Regional Police Polar Plunge. This colleague knew Ryan had a son with Down Syndrome and invited Ryan to plunge. The rest is history! That year, Ryan participated in the Plunge, the next year he helped organize it, and the last four years, Ryan has co-chaired the Sheridan College Polar Plunge in the City of Brampton.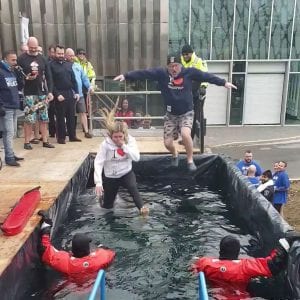 That day of the first plunge, Ryan raised over $5,000! "It was well worth the shock of jumping into that bin on a cold, wintery day in March," said Ryan. Each plunge since then, Ryan has realized just how fun Polar Plunge events are. Ryan says, "when it's all over, you can see how much money you raised for Special Olympics and realize that you've made a difference in the world."
Ryan's continued involvement with Special Olympics Ontario and Polar Plunge started right at home. "I have a thirteen-year–old son who has Down Syndrome so, I felt an obligation to give back to Special Olympics Ontario for all their amazing work done for individuals with an intellectual disability," said Ryan.
People from all around the world are able to participate in sport who wouldn't necessarily have that opportunity without Special Olympics which is why Ryan continues to volunteer his time. Ryan says, "The happiness this organization provides to millions of people is overwhelming and I'm happy to have been able to help out for the past six years."
As a parent of two boys, Ryan plunges for the kids; helping out as much as he can so that children with intellectual disabilities have the opportunity to play sports. Ryan encourages all to get involved with the current Virtual Polar Plunge event and future events in their community and see just how much fun they are!