Lisa O'Brien's Law Enforcement Torch Run (LETR) journey began 25 years ago when she got involved with her first local Torch Run. London Police Services, London Ontario Provincial Police (OPP), Royal Canadian Mounted Police (RCMP) and Correctional Services grouped together each year to complete the run. Lisa's run took her from the OPP station, to the Elgin-Middlesex Detention Centre, to the RCMP detachment in downtown London, to the London Police Services station – picking up local athletes along the way.  "I was instantly hooked. The excitement of the athletes and comradery and support of all of the local organizations encouraged me to want to do more," said Lisa.  
Broadening her LETR involvement, Lisa went on to participate in Final Legs and Torch Runs in different cities and jurisdictions. Alongside her role as Western Regional Director of Institutional Services for the Ministry of the Solicitor General, Lisa also became a member of the LETR Operations Committee in 2017. "I have continued to be able to represent, support and increase awareness and Correctional Services involvement and commitment to LETR on a greater level as well as a virtual platform during the pandemic."  
Like many, Lisa has had moments throughout her time with LETR that have stuck with her. "When an athlete once told me that our arrival at the Final Leg is 'like Christmas,' it brought a tear to my eye and an additional desire to be more involved with LETR," said Lisa. "The excitement on the faces of the athletes is more than enough to make me feel privileged to have participated in their events."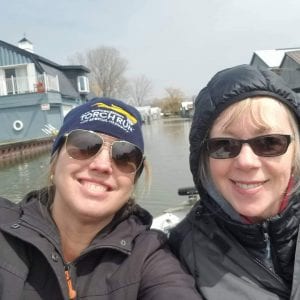 Such LETR events have not only shown Lisa the importance they have on Special Olympics athletes but also, the importance they play in Lisa's life. "Through the power of inclusion, sports and activities, as people with intellectual disabilities discover their strengths, abilities, confidence and successes, so have I," said Lisa. "I am thankful for the athletes I have had the privilege to connect with and learn so much from."  
Lisa is the first to jump up when it comes to volunteering her time to LETR, encouraging others to get involved at the same time. "The athletes depend on our support, encouragement and fundraising; especially during this virtual world as a result of the COVID-19 pandemic," Lisa expressed. "We are proud of Ontario's reputation in LETR changing the future for our athletes with intellectual disabilities while paving the way for acceptance and inclusion." 
We can't thank Lisa enough for her hard work alongside all the LETR volunteers from the Ministry of the Solicitor General, Correctional Services. You truly make a difference in the lives of Special Olympics athletes!