THUNDER BAY – The games are less than a month away but organizations wanting to see every athlete have a rewarding and memorable experience are continuing to donate money to help make it all possible.
The Law Enforcement Torch Run donated $44,250 to the Special Olympics Canada Winter Games, which will be held in Thunder Bay at the end of the month.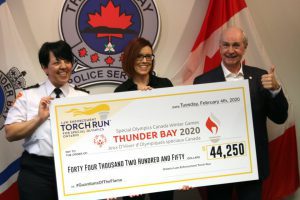 "I think once you meet the athletes and spend time with them, it's an easy sell," said Tara Bottan, local zone coordinator with the Law Enforcement Torch Run. "Seeing them grow and knowing we are contributing to that and knowing we will continue with that through these games, it's probably the best feeling you could ask for."
All the money was raised by police services and organizations throughout Northern Ontario, including the Ontario Provincial Police, the RCMP, the Ministry of Natural Resources and Forestry, Canadian National Railway Police, Canadian Pacific Railway Police, and local police services including the Thunder Bay Police.
Read the entire article HERE